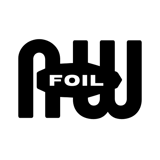 Details:
E-Foil Lessons are for those who have never ridden an e-foil, or are looking for more advanced lesson on a board. Lessons run 90 minutes to 2 hours depending on the battery life of the board. Each lesson includes personalized instruction and ride time. Two person private lessons last 2 hours or until battery life runs out. 50% of the cost of a lesson can be applied to a purchase of a board.
A Demo is for someone looking to purchase a FOIL board. If you have never ridden any type of watersport board before, you may want to do a lesson first. While we can build a lesson into your demo (for an additional cost), depending on your skill level, you may not be ready to try smaller boards and faster wings. You'll get more out of your time with us if you already know how to ride. Demos include how to assemble your board, and testing of different equipment you want to test before purchasing. A demo last about an hour to 90 minutes depending on how many different configurations you try. 100% of the cost of a demo can be applied to the purchase of a board. You do not need to do a demo to purchase. This is only needed if you wanted to test out different equipment.
An Experience will not include a lesson. It is a tour for those who have had the initial lesson and want to ride and enjoy the scenery, or develop more skill. You must have had a lesson from us in the past, and pass our skills test to do a tour. Experiences are always accompanied by Foil NW staff. We do not offer solo rides or rentals. Experiences last 90 minutes or until the battery becomes low enough that staff recommends the ride ends. Experiences are offered for only one person at a time currently, but solo time can be split between two or more people.
Board Purchase: Ready to buy? Purchase through us and get special discounts through us. Contact us for our current specials. We can also credit partial cost of your first lesson or demo with us towards the board as long as your lesson or demo was within 6 months of the purchase. Need help picking a board? This blog on FOIL boards and wings to help you choose.
Private Single Lesson
$250 for a 90+ minute lesson
Partially refundable with purchase of a board
Private Demo
$150, fully refundable with purchase of a board.
Two Person Private Lesson
$400 for one board, two people switching off
Group Lesson
Call / email availability and pricing
Add ons:
Wetsuit rental: $8
Drysuit rental $15 (for cold water)
Action Camera rental: $5
Private Experience (accompanied rental)
$200 daytime tour
$250 for a sunset tour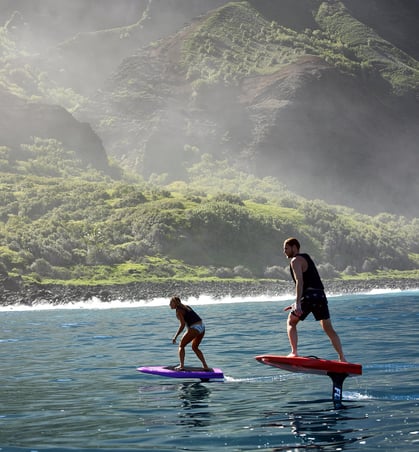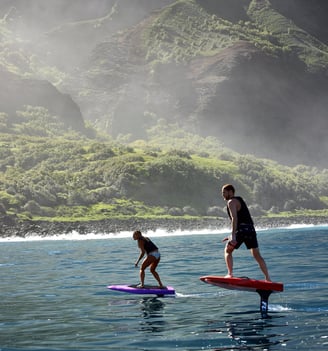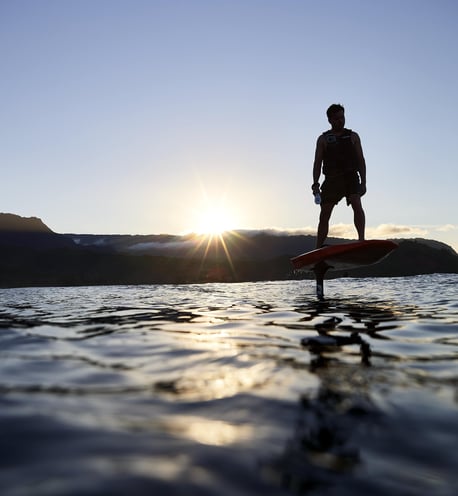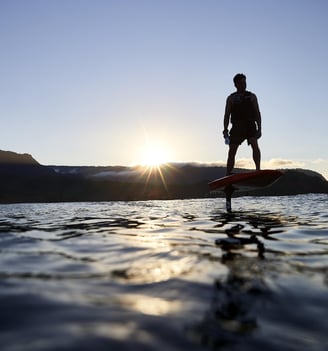 Buy an E-foil:
Use our link here to purchase a board and get a free case worth $300! Just use our dealer code "FOILNW" at checkout (note you have to add the bag to your cart, then after the terms and conditions, see link to add dealer code and enter the code "FOILNW" there and the cost of the bag will be deducted from your total.)
Sessions are typically done at Bernert Landing (Willamette Park) in West Linn, or other locations in the Portland Metro area. We also can also travel to you, but depending on the distance, there may be an extra charge for travel expenses. Please contact us for more information. Our territory includes the Portland Metro area as well as the Hood River and North Coast areas.
All sessions include the use of a life jacket and helmet for no charge.
Wetsuits are recommended when water temperature is less than 75 degrees. We recommend a drysuit rental when water is less than 60 degrees (spring/fall). You can wear regular clothing under a drysuit. Depending on water temperature, we recommend fleece or thermals under a drysuit to keep you warm.
We recommend bringing a towel, and wear something with a zipper pocket for keys. A rash guard is also helpful as you will be on your knees and elbows a lot and they can get scraped up. We are not responsible for any lost personal items. There is no storage on the boards themselves. We recommend not bringing any personal items like a cell phone unless you have something that will keep them safe, dry and will float. We don't recommend leaving anything on the dock as it can get stolen.
All cancellations must be done 48 hours in advance or your payment may be forfeited.
You must be 16 or older. Those under 18 must be accompanied by a parent for the full time of the lesson. Boards are rated for up to 230 lbs. Sorry, we cannot accommodate those over this weight limit.
We reserve to cancel at any time due to weather, water conditions, or staffing issues. In the event of a cancelation, we will credit you for a future lesson, or refunded if another time cannot be scheduled. If we feel at any time during a session that the rider is not obeying our instructions, or we believe the rider cannot ride safely, we reserve the right to stop a session at any time with no refund.
You must agree to abide by all our rules . If you don't adhere to our rules, we can stop your ride at any time with no refund. To see our rules and sign our waiver click here (rules are highlighted at the end): https://web.wherewolf.co.nz/cvxkdd
Birthdays
Graduation Presents
Bachelor Parties
Corporate Bonding
Anniversaries
Summer Break Fun
Girl Time
Touring the waterways